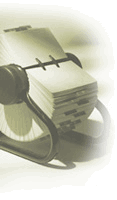 As a rule, we answer all your questions with as much information as possible. But there are times when we cannot be reached – so we've included many of our frequently asked questions below.
In order to see the answer to your particular question – simply click on it – the answer will appear in the field directly below. If you have a particular question: – email us from here.
Browse the Frequently Asked Questions below and click for the answer.
A better question is What DON'T WE DO? But we have not found an answer to that one, because we do it all! We order resort written waiver of right of first refusal and estoppel confirmation of unit details, usage availability, amount due to pay account current, any delinquencies on account, including faxes and phone calls to resort. We coordinate ordering title search and policy, ordering of any loan payoff demands, including Priority mailing deed for recording and loan payoff check at closing. We prepare transfer documents for Seller and Buyer including closing instructions, closing statements, tax forms, etc.  We order licensed attorney preparation of the new deed.
We process trust accounting for Buyer deposit (you may send us a personal check or a credit card authorization for opening deposits only). Closing funds must be via cashiers' check or bank wire, since we cannot send a deed out for recording without good funds. We will disburse all checks at close of transaction, after verification of recording is received, as applicable.
Resort notification of change of ownership at close of transaction – we provide resort with a form to complete and fax back to us when buyer has been updated in the system.
Follow up phone calls, faxes, emails as needed throughout transaction.
Prepare any required affidavits, i.e. affidavit of death (additional fee applies), quitclaim, change of ownership reports, etc.
Priority mailing of broker commission check at close of escrow (or direct transfer to bank account).
Email capability for all closing documents, (must be able to open .PDF attachments), or mail if attachments are a problem for you.  Best of all, we keep you informed throughout the transaction, with emails, phone calls, even text messages if requested.
In cases where the parties know each other, or are related, or are quitclaiming without consideration (no purchase price), we can provide attorney deed and document preparation and recording service in cases where a full service escrow is not needed.
For a discounted rate of $250.00 including attorney deed preparation, we will have all of the requirements documents prepared and processed for transfer including tax forms, deed or relinquishment memo, letter to resort and county recorder, mailing fees, phone calls, and coordination of title insurance if requested.  WHAT WE DO NOT DO is prepare written agreement between the parties, or handle client trust funds, verify account status, or notify resort. Parties will need to mail copies of the recorded documents and any required transfer fees to the resort direct.
To utilize this document preparation service, mail your $250.00 up-front fee check, payable to Quality Timeshare Closings, Inc., to our address of PO Box 7168, Branson, MO  65615, along with completed Buyer and Seller information forms (see FORMS), a copy of your deed, title policy and most recent maintenance fee invoice if available, and we will immediately send you a receipt and prepare the documents for transfer. This fee is nonrefundable after we have prepared and mailed out the new deed to Seller.
Recording and delivery fees are additional.
To open escrow, we require the following by FAX or MAIL;
(Please contact us and we will email or fax these forms to you if you have trouble downloading them from our site, under FORMS)
Seller Release, signed by all owners on account,  authorization signatures allow us to order written verification from Resort, as well as payoff demand from any existing lienholders.  Include copy of death certificate if any owners are deceased.
A copy of the Seller's deed, (and Schedules A and B from existing title insurance policy and most recent maintenance fee bill, if available). These items speed the processing and verification of the transaction considerably.
Completed Buyer/Seller/Resort Information Form (please contact us and we will email or fax this form to you).
 A minimum $500.00 good faith deposit from Buyer, made payable to Quality Timeshare Closings Client Trust Account, (you can abbreviate as 'QTC Client Trust' if you wish), and mailed to our address of PO Box 7168, Branson, MO 65615 (deposited funds are fully refundable if Seller cannot convey clear title). Please note that if Buyer elects to cancel escrow through no fault of the Seller or QTCI, we do charge a cancellation fee to cover expenses incurred up to the point of cancellation.
A faxed copy of the Purchase agreement signed by both Buyer and Seller, as applicable, required when developer retains right of first refusal, since a copy of signed contract must be submitted for a written developer waiver.
We cannot stress enough how IMPORTANT and VALUABLE a policy of title insurance is for any and all deeded property where title insurance is available. Please note that if you do not pay for title insurance, a title SEARCH will not be conducted. Even if you obtain a PRELIMINARY title report or lot book report, that is not a guarantee about the true condition of title.  If the chain of title is challenged after Buyer is recorded as owner of record, Buyer is entitled to a refund of their FULL purchase price.
All parties are checked for liens against them individually, which although not attached to the property, could cause a cloud on title. You can purchase a timeshare without title insurance. However, you will have a difficult time obtaining title insurance for your Buyer if they insist upon it should you later re-sell your ownership.
If there does turn out to be a cloud on title from the previous owner (i.e. a mortgage which was paid off but never released, or delinquent taxes), you will have to chase after the previous owner (or his ex-wife, or lender) for required Affidavits, which may or may not be obtainable. Most policies of title insurance cost $250.00 – $300.00, a worthwhile investment.
We have seen some cloudy title issued resolved during escrow that would not have come to light if a title company wasnÌt involved. For example, one of our Sellers stated that his taxes were paid in full, since the property taxes were included in the annual maintenance fee payment. When our resort verification came back that taxes were in fact NOT included, we ordered a title search. The California tax collector offices does not forward their bills if you move; they make it your responsibility to provide them with your change of address. Therefore, although this owner had not received a bill, he owed close to $1,000.00 in back taxes, penalties, and interest, although his annual tax bill was only $30.00.
Another scenario is when an ex-spouse has quitclaimed off of the property, but an improper deed was recorded, or no deed at all. Many times, an owner will think that because they have a divorce decree stating that they are now the sole owner of the property, they can execute a deed without the ex-spouse's signature. A properly formatted recorded deed as required by the state the property is located in is the only way to acquire sole ownership through a divorce.
The death of a vested owner also requires handling during the escrow process. An Affidavit of Death must be prepared, signed by the surviving spouse, and recorded along with an ORIGINAL or County-Certified copy of Death Certificate.
Another problem we have seen in about 10% of our transactions is Deeds of Trust or Mortgages that encumber the property, which secure a loan. This old loan has usually long since been paid off by a previous owner, but is still showing up as a lien of record against the property. Many owners think they have clear title simply because they paid off their loan in full. In a perfect world, this would be the case. However, many lenders do not prepare, issue and record a reconveyance until the borrower (our Seller) sends them a written request, and pays fees of up to $500.00 to do so. Even then, the removal is seldom done in a timely manner.
Some resorts, such as Fairfield and Jockey Club, do not even issue a deed until the loan is paid in full. If you own Jockey Club, check to be sure you have a Grant, Bargain, Sale Deed signed and notarized, and recorded in Clark County, Nevada. If what you have is a Certificate for Deed, you are not yet a deeded owner, and the process can take 90-120 days,
with fees averaging $300.00. Although this process causes a delay in closing, we can take care of it as part of our transaction for no additional fee.
IN SUMMARY, TITLE INSURANCE IS HIGHLY RECOMMENDED, IF YOU DO NOT WANT TO GAMBLE TO SEE IF YOU ARE ONE OF THE 10% THAT EXPERIENCE THESE PROBLEMS.
You can do this. I have done closings for some savvy Sellers and Buyers who handled their own transactions previously. The reason they decided to use our services instead this time around is that the Resorts can be SLOW in processing paperwork (for example, Mexico – Club Regina's Mexico City office can take 3-4 months to update their records with Buyer information, and another 6 months to mail out a new Ownership Certificate), and Buyers were calling the Seller every week wondering why they had paid money direct to Seller with no proof of anything owned.
With Quality Timeshare Closings handling the transaction, as a Buyer you can be assured that your funds are safe in our Trust Account until verification of deed recording is received for deeded property, or that ownership transfer is complete in the case of a non-deeded property. As a seller, you can be assured that we will not release your deed for recording until we have Buyer funds in our Trust account. Also, RCI banked weeks and pending reservations do not transfer to the Buyer until either deed is recorded, or non-deeded unit completed.Sellers will have the assurance that their property will be transferred correctly, with Deed and/or transfer documents held until we receive Buyer's good funds to close. Seller will be spared the bothersome task of providing verification of ownership to Buyer, coordinating payments, reservations, and transfer of banked weeks.
Buyers will have the assurance that the purchased week is exactly what it was represented to be. Unfortunately, many timeshare owners do not know what they really own. It is highly recommended that owners call the Resort to confirm their unit details before listing for sale with a broker or resale website, like eBay or TUG.
If the unit is not exactly as advertised, Buyer has a right to cancel. We have verified ownerships that were listed as floating weeks 1 through 52, when in fact the unit was not available for weeks 51 and 52, at Pueblo Bonito, Cabo San Lucas, for example. The Christmas and New Years weeks were sold as fixed weeks. Also, Sellers have sold floating weeks at the Lagonita Lodge in Big Bear, CA as a Bear View unit, which is a view of the lake, when in fact they owned a Bear Hill, which is a view of a grassy hill and parking lot. This is not done maliciously, just usually due to the fact that many timeshare owners have never actually stayed  at the resort they own. Or, the resort has been able to give them usage of another type of unit, although it is not what they own. This is unfortunate, because we never enjoy a cancelled transaction. But this process is why folks trust us to handle their transaction; they have written verification that all ownership details are correct, so there are no surprises later!
A third party Closing Company protects all parties, yet is partial to none.  The only thing scarier than purchasing a timeshare on the internet is sending a total stranger thousands of dollars before you have received any assurance that the ownership is valid and transferable, and lien-free.We offer the safety of a third 3rd party escrow trust account with Bank of America, for depository funds. You do not send your purchase funds directly to an owner, then wait 3 months or more with nothing to show for it.
We do NOTHING without mutually agreed upon written instructions from Seller and Buyer. We will hold the Seller's executed deed until we are in receipt of Buyer's good funds, and we do not release proceeds to Seller until deed has been successfully recorded. Many closing companies do not do this. Since many states have complicated and ever-changing requirements for deed format, tax forms, and required fees for recording, timeshare deeds are often rejected by the recorder's offices, and returned for corrections prior to recording.
Most sellers are extremely motivated to comply in order to finalize the transaction and receive proceeds. In the event that the unrecorded deed was lost in the mail en route to the recorder's office, and Seller becomes incapacitated or unwilling to sign another, Buyer's only recourse would be legal action.
We feel it is best to avoid these situations by protecting both parties' interests throughout the transaction.In the event that there is a dispute during the course of the closing, and the parties do not come to a mutual agreement, all proceedings halt until the parties reach an agreement, either directly with each other, through their real estate agent(s), a professional mediator, arbitrator, or a court of law.