My New Year's Resolution for 2014, to BLOG MORE! It has been a crazy six months. I just cleared out about 1,000 photos off my cell phone after backing them up to my PC and cloud file storage system, and it was so fun to relive all of the family parties, hiking adventures, kayaking, a bus trip with my Mom (this will be her second full year in Branson MO), visits with my Dad in the assisted care facility, fun times with my family and grandkids, who can forget my daughter's New Years Eve wedding (a couple of sneak peek photos are below), Tony being named Branson Lead Guitar Player of the Year, and of course friends!  We are having a challenging winter this year like most of America, and I feel the pull to hybernate: Work, TV and sleep.  But I know I need to get out and be around other people and experiences in my community, so I will resist!  Perhaps some hot yoga and Zumba…
Our semi-monthly newsletters/developer buyback reports are now a document posted on the ShareFile "Cloud", and clients can download those at any time, we update regularly as transactions pass through Right of First Refusal, either with a WAIVER, or a BUY-BACK, in which case the developer steps in as the Buyer under all of the same terms as the Buyer's written offer, and my file is cancelled, with developer's title company closing the transaction. Starwood, Disney, Hilton and Marriott are all exercising ROFR, some occasionally, others frequently. If you would like to be given access to these reports, just email me your full name, company, and email address, and I will add you to the distribution.  We do not harrass you weekly or share your information with anyone, ever.
Exciting news!  As of December 2013, we are now Powered By Citrix ShareFile 2014.
Here's how it works; When a transaction is opened and/or the waiver is issued by the developer, we set up a ShareFile folder with the Q File number, adding the agents and transaction coordinators as authorized in that folder; they receive an email notification.  Then  when our closing documents are ready, we email Seller and Buyer links to their documents, which are stored in separate sub-folders.  All of the above will have 24/7 access to their file status and documents.
THANK YOU for all of your support during 2013, and we look forward to a positive working relationship with our timeshare resale Brokers, agents, title companies, resorts, and Sellers/Buyers/gifters all year long. Don't forget we can assist with transfers into a trust or deeding to family members!
Sincerely,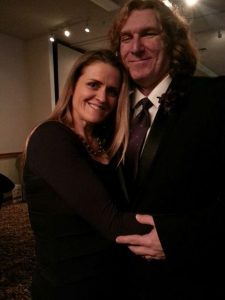 Kelly Robinson, PresidentTony and I at the wedding